Our goal isn't mass tourism. We aim to offer an unforgettable experience in nature to a selected group of people. We will cater for you also if you have special wishes. We will make sure that your wishes come true. We take a personal approach to each visitor and even in case of trips for groups we will try to accommodate all special wishes. Our groups are always the right size so that the guide or group leader will find time for each visitor. With us you will not get noisy tourists, false politeness and lecturing guides. Everything is genuine and comes from the hearts of specialists who love their field.
Trips are carried out by experts who work in the field or either as their long-standing hobby.
As our nature tours take you mostly to our rural areas, you will support the sustaining of life in the rural areas. Also, ecological thinking characterizes our view of the world.
Visit us and greet our untouched nature, sincere people, and local food – genuine Estonia in all its glory.
Eleri Lopp Valdma – Leader of the Estonian Wildlife Tours team
Contact: info@estonianwildlifetours.com
+372 58 43 77 52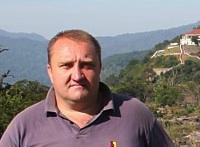 Allan Selin
Butterfly expert. A member of the Estonian Society of Lepidopterologists, a member of Suomen Perhostutkijain Seura. Allan has also been in the management and council of Estonian Fund for Nature (ELF).
Contact: info@estonianwildlifetours.com
+372 58 43 77 52